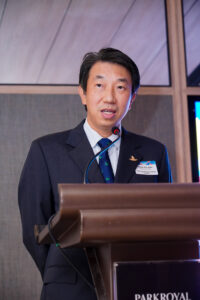 Photos credit to AAIS
The Aerospace Leaders' Dialogue Singapore 2022 was organized by the Association of Aerospace Industries of Singapore (AAIS) on the 17th of February 2022.
Held in conjunction with the Singapore Airshow 2022 around the theme of "Sustainability, Innovation and Technology for the Future of Aerospace" and moderated by AAIS Chief Executive, Mr. Sia Kheng Yok, senior speakers from Boeing Global Services (Mr. Dan Abraham), GE Aviation (Mrs. Kathy MacKenzie), Airbus (Dr. Valerie Manning), Liebherr-Aerospace & Transportation (Mr. Nicolas Bonleux), and Rolls-Royce Singapore (Dr. Bicky Bhangu) focused on the framework enabling the air industry to achieve Net-Zero Emissions by 2050 through global sustainability strategies, operational efficiencies, renewable energies, and advance technologies.
Presenters also focused on Sustainable Aviation Fuels (SAF), Sustainable Services – including training, operations solutions, maintenance programs, and enhancement programs -, Digitalization and development of Green Technologies based on optimized aerodynamics, light weight materials, electric systems, new energy generation and propulsion technologies.
To learn more, please watch the recording of the Forum on the following link https://vimeo.com/680775339.